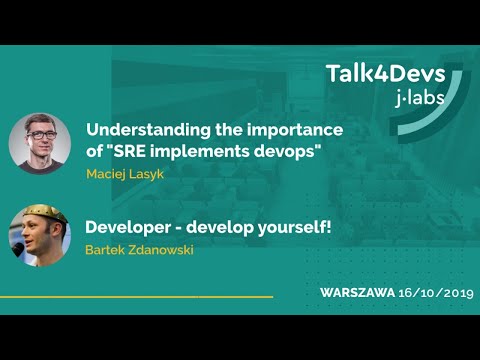 you can no longer register for this event
#57.1 - 16.10.2019
#57.1 Understanding the importance of "SRE implements devops"
Lecturer: Maciej Lasyk
---
This presentation explains what is SRE & CRE and how we worked on the reliability of our Cassandra clusters. The most important part here (besides that this is a case study) is that this talk gives a solid answer to "what it means that service/product is reliable enough?" in #noops world.
---

Cloud Acrobat @Codewise. Open source contributor, enthusiast and evangelist supporting projects like OWASP and Fedora. Maciej believes in chaos engineering and automation. He's devoted father and husband as well as multi - sport athlete. You can catch him on Twitter and also see his work on Github and his personal blogs.
---
Don't forget to register!