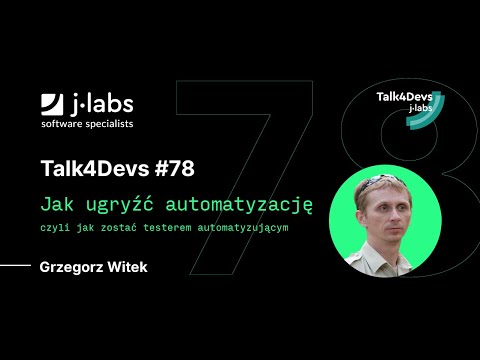 you can no longer register for this event
#78 - 14.09.2022 18:00
#78 How to start with automatization – how to become an automation tester
Lecturer: Grzegorz Witek
---
You are a manual tester and would like to develop in automation, but don't know where to start? Do you want to change your mind and are looking for your path? Or maybe you already have a job as a developer and prefer to take the "other side of the force" and wonder what it is like to be an automation tester?
If the word "YES" appeared in your head at least once, or you are simply interested in the work of an automation tester, I will try to bring you closer to this world. I will also tell a few stories of people who have chosen this path and will present their advice for people who want to go this way.
---
I have been associated with software quality since 2010. Starting from a manual tester, through an automation tester, to a quality engineer. In the meantime, I had the opportunity to gain invaluable experience as a 'specialist' in Docker, and also got to know other tools related to DevOps in general. Currently, as an employee of Backbase Polska, I am constantly trying to expand my skills. In addition, I conduct technical training related to programming, test automation and CI / CD processes, and I participate in the Nobilites school by conducting a testing course there. After hours, I actively work locally, organizing meetups and training as part of the KrakQA testing community.
---