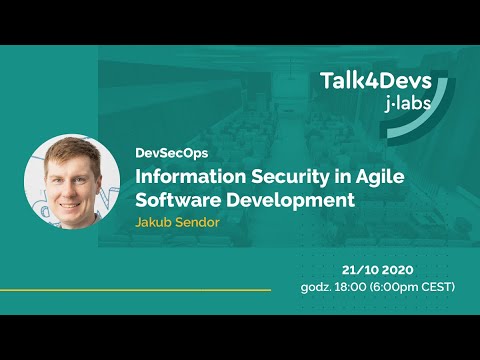 you can no longer register for this event
#62 - 21.10.2020
#62 DevSecOps – Information Security in Agile Software Development
Lecturer: Jakub Sendor
---
From the presentation, you will learn how DevSecOps can lead to a faster feedback loop related to the security issues in the software you are developing. Furthermore, we will explain how to transform your Agile Software Development practices to leverage this new DevSecOps approach and thanks to that produce code with much fewer security vulnerabilities.
---

Kuba Sendor helps companies to develop securely in the ever-changing threat landscape. Currently he is a Delivery Manager at j-labs where he is also responsible for an awesome team of engineers delivering a world-class software to the enterprise market. Previously he was managing Corporate Security team at Yelp in the company headquarters in San Francisco, where together with his team they were responsible for analyzing and responding to the malware and phishing threats in addition to any other unforeseen types of security incidents. Before that, he worked as a researcher in the Security and Trust group at SAP. Over there he participated in the initiatives related to the data access control and privacy policies, way before GDPR was a thing. Throughout his career Kuba has spoken at many international conferences, e.g. Black Hat, BSides, BruCON, 4Developers, OWASP Poland Day, and DevOpsDays. In his free time, he cycles, runs, or reads conspiracy theory novels
---
Don't forget to register!